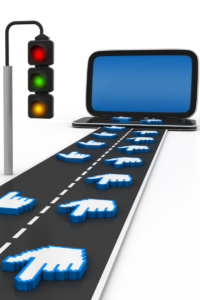 Website traffic is always a good thing — right? Not always. When you're getting a new website up-and-running or looking to scale up traffic on an existing site, you're probably pretty focused on potential inbound traffic. But not all types of traffic are equal. There are many visitors you want on your site, but one type of website traffic you don't want is harmful bot traffic. 
Unwanted Bot traffic is something you should try to keep away from your website. Detecting bots isn't always easy, but there are ways to educate yourself on this type of fraudulent traffic, and there are ways to prevent unwanted bot traffic. Keep reading to learn more about: 
What bot traffic means 

How bad traffic can hurt your website

Signs of bot traffic

Bot traffic prevention
What is bot traffic? 
Any time a visitor goes to a website, it's known as traffic. A website server registers each visit – or 'hit' – that the site receives. Not all traffic comes from an actual person, though. While traffic may be generated organically from search engines and may come from links and advertisements, sometimes a good portion of a website's hits come from bots or non-humans.
Note that not all bot traffic is bad for your site. There are good and bad types of bot traffic. Good bot traffic may include the Googlebot and other website monitoring bot tools. These types of bots can crawl your site and help search engines stay aware of your site. Then there are bad bots that don't perform any useful function on your website and can be harmful to your website and visitors. 
How can bot traffic hurt your website? 
If you want more website traffic, you probably want the bulk of it to come from real people — people who may be interested in buying, subscribing, or coming back again and again to your website. You want site visitors who will take some real action on your website. Bots aren't going to do that. And not only will bot traffic fail to lead to sales or other desirable action, but it can also actually hurt your website and your business by: 
Slowing down or crashing your website

Gathering information for your competitors

Raising your IT costs

Compromising your data and your customer's data

Preventing you from complying with data protection regulations
What are the signs of bot traffic? 
Sometimes, bot activity on a website isn't evident, but there are often signs to watch out for. Warning signs of bot interference on your site can include: 
Very short session durations

. A real visitor may only spend a few seconds on your site, but visitors who stay on a website for just milliseconds are likely bots.  

Traffic from unlikely locations

. If most of your business is from the U.S., and suddenly most of your visitors are from the other side of the world, you may be dealing with bots. 

Poor conversions. 

Items may go into carts, but none go through checkouts. You may be getting tons of sign-ups that bounce back. 

Abnormal page views. 

Suddenly seeing a considerable number of page views is possibly a sign of bot traffic instead of organic or ad-generated traffic.
How can you protect your website from unwanted bot traffic?
Protecting your website from bot attacks is essential. But differentiating between good and bad bots and monitoring for signs of fraudulent bot activity can be a job in itself. That's why bot protection and fraud prevention solutions are important too. At Fraudlogix, we keep bad bots off websites to work as they should. Contact us with your questions or learn more about protecting your website from bot traffic.